This will be a powerpoint presentation by Jim Gomes and David Campen. David will also demo how to use these test strips from Adgia. We will be purchasing 25 test strips. Members are welcome to purchase them.
The most common viruses in cymbidiums and other outdoor orchids are CymMV or cymbidium mosaic virus and ORSV or odontoglossum ringspot virus (also referred to as TMV-O or tobacco mosaic virus — orchid strain). Several other types of viruses, such as the orchid fleck virus, cucumber mosaic virus, bean yellow mosaic virus, various Potyvirus strains, and others can also infect orchids, but are much less common in collections and nurseries today than CymMV and ORSV, and seldom represent a problem for most growers.
Several methods of testing for the presence of the more common viruses have been available to the amateur orchid grower for a number of years: the Enzyme Linked Immunosorbent Assay (ELISA) test that is performed by several laboratories across the country, the Double Radial Diffusion test, and, of course, the indicator plant that shows the presence of virus by the development of necrotic lesions when inoculated by a virus. Of these, the ELISA test has been the most popular and is widely used by commercial laboratories. The time required to take a sample, send it to the lab and get results back is not practical for doing a spot test on a suspect plant in the nursery, as is waiting on the results from an indicator plant or the Double Radial Diffusion test.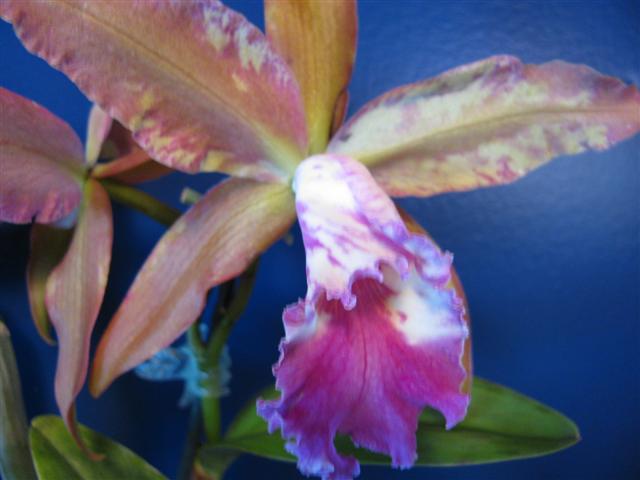 Plant Opportunity Table
The plant opportunity table this month will be provided by Carmela Orchids located in Hawaii & Sunset Valley Orchids in Vista, Ca.
2017 Membership
Renew your membership now and receive your new 2016 Membership card. This card can be used at Yamada's for 10% off on any orchid related items.