Fred Clarke
"Today's Mini and compact Cattleya's"
Today Mini and Compact growing Cattleya's come in many colors and shapes. Learn about the small growing Cattleya species, the important breeding plants and what hybrids are available for the orchid enthusiast. In conclusion we cover the 'best practices' for growing these little gems. This is a PowerPoint presentation.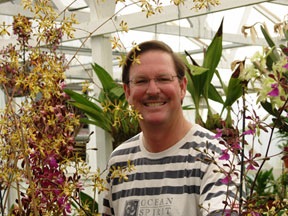 Fred has been growing orchids for 40 years and has been hybridizing for 35 of those years. With over 31 years as a professional grower and manager in the horticultural industry, Fred applies these skills at his orchid nursery; Sunset Valley Orchids, located in San Diego, California.
He is a passionate orchid grower whose curiosity in orchids is broad and varied. Although developing Cattleya hybrids has been his sustaining interest, he is also actively creating new Bulbophylum and Paphiopedilum hybrids.
His pioneering work in Catasetum intergeneric hybrids led to the development of several notable hybrids, most recently the grex, Fredclarkeara After Dark, which produced "the blackest flower ever witnessed" and received over 90 awards worldwide.
Fred is an Accredited Judge in the Pacific South Judging Region. His plants have received hundreds of quality awards from the American Orchid Society.
2018 Membership
Renew your membership now and receive your new 2018 Membership card. This card can be used at Yamada's for 10% off on any orchid related items. See Dann Dunst our Membership Chair at the next meeting.