2017 SGVOH
Annual Orchid Auction
Our Annual Fundraiser this year again was very successful. Much preplanning by our board members and many society volunteers produced a successful undertaking which will help in planning activities and speakers for the coming year. We were quite pleased with such a variety of beautiful hybrids and species donated by vendors and club members. Many plants were in full bloom.
Vendors donate, not usually out of the goodness of their hearts, but because they see it as an investment in us. They expect that they will get a 'return on investment' by having us make purchases from them. When we make a purchase from a donor vendor, it is essential that we identify ourselves as members of San Gabriel Valley Orchid Hobbyists and thank them for their donations to the society. Thank you letters were given to vendors, members, and non-members that donated. Acknowledgement will be posted on our SGVOH website and listed on the insert in the Bulletin.
Remember that a successful auction depends upon an excellent array of plants, strong auctioneers, and man hours of donated time, and interested bidders. We all owe our greatest thanks to our excellent auctioneer, member Peter Lin. He did an excellent job of insuring that the flow went smoothly and fairly.
Prior to the auction itself, we were fortunate to have Lucy Arlotti, Dann Dunst, Jim Gomes, Greg Orozco, Lana Tripathi, and Joe Vargas collect donations from vendors. We would also like to thank member donors for the excellent plants they donated: Lucy Arlotti, Dann Dunst, Jim Gomes, Jim Herman, Doris & Yoshi Hirata, Kathleen Leonard, Micaela Solis, Gordon Quan, and Una Yeh.
Of course at the auction itself, we had several Members volunteer for specific functions, from receiving plant donations (Linda & Jim), registering bidders (Lucy & Dann), logging sales (David & Jim), cashiers (Lucy & Dann), and Thanks to all of you who helped in so many ways. A special thanks to Jim Gomes and David Campen for setting up tables, chairs. Thanks to Jim Herman, George McDonald, and Lynn McIlwain for arranging the plants by Genera. It is hoped that the non-participating society members appreciate these actions and recognize that we always need volunteers in order to keep our society healthy and functioning in a manner that benefits all club members.
Thanks to all of you for making our 2017 Auction a SUCCESS.
How do I feed my orchid?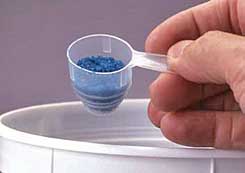 Experienced orchid growers fertilize their orchids weakly, weekly.
Orchids need to be fed regularly. Growers suggest using a "balanced" fertilizer such as 20-20-20 that includes all "necessary trace elements." Regardless of the fertilizer formulation you choose to use, it should contain little or no urea. If you are unsure of what fertilizer to use, you can generally use any fertilizer you would for your other container plants. Orchids will do far better with too little fertilizer than with too much. Many growers recommend the "weakly, weekly" approach, applying a dilute (1/4 strength) fertilizer each time they water, rather than applying a full dose once a month. Also, it is best not to fertilize a completely dry plant as the fertilizer can burn the dry roots. Water first then follow with fertilizer solution.
When Should I Repot?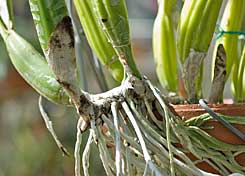 When an orchid plant starts to grow over the edge of the pot, it is time to repot it!
Orchid plants need repotting for one or a combination of two main factors: Potting mix breaks down, often evidenced by dead roots, or the plant outgrowing the container. In the first case, a larger pot may not be required, simply replace the growing medium. In the second case, the plant may need dividing or may be shifted into a larger pot. Fresh media should always be used. A good general rule of thumb is to pot for the bottom of the plant, the root system, and not for the top, the foliage.
•Anthocyanin
•Boisduval Scale
•Divide or Repot?
•Keikis & Air Roots
•Leaftip Dieback
•Potting a Keiki
•Recognizing Mite Damage
•Recognizing Virus Symptoms, part 1
•Removing a Damaged Leaf
•Removing a Keiki
•Repotting a Cattleya
•Repotting a Healthy Orchid
•Repotting an Unhealthy Orchid
•Root Loss
•Selecting an Orchid
•Watering Orchids
•When to Repot?

•Where to Cut a Phalaenopsis Spike