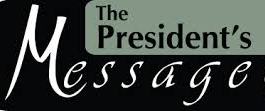 What a pleasure it was to have David Toyoshima as our speaker last month. His program was on the oldies but goodies of the cattleya world. I started growing and learning about orchids in the 1970s going through catalogs from Stewarts Orchids, Amacost Royston, Jones & Scullys, Oak Hills, Rod Mclellens none of which are in business anymore. Seeing all the beautiful photos of all those great old flowers really brought back many memories. This was a nice way to start off the New Year. See you all at the February meeting.
Greg Orozco
President
Leaftip Burn - AOS
Question
I've noticed the tips of the leaves of some of my orchids are brown, and guessed it was due to over-fertilizing. This morning, I discovered two small (not tiny) brown spots on a dendrobium leaf. The cane has at least seven to eight leaves, and the spotted one is top-most. By looking at the back of the leaf, I found the center of the brown spots became thinner than the leaf. Are the spots an indication of sunburn or fungus? I have the orchid at an east window, so it shouldn't be receiving too much sun. — Elizabeth Hsu
Answer
The leaf-tip burn you describe is not unusual in orchids grown in the home or under very dry conditions, nor is it necessarily indicative of over-fertilizing, but rather of salt-related damage. This occurs when the salt concentration in the soil solution reaches a certain critical point, either through accumulation by over-dry conditions, or by the excess application of fertilizer. Keeping the plants more evenly moist, and flushing thoroughly with clean water can also help to reduce this sort of injury to orchids. I doubt that the symptom you describe on the top leaf is fungus, and even if it is, it sounds like a type that is the result of a secondary infection that is rarely more than a cosmetic problem. Unusually cold water can bruise the softer tissue of a developing leaf, making it susceptible to infection in the same way that a cut on your hand is liable to be infected. The infection usually stops on its own, leaving the type of lesion you describe. — Ned Nash

Epsom Salts - AOS
Question
I have recently learned that Epsom salts work well for getting phalaenopsis to bloom. My questions are:

Does this work for all orchids? If not, which ones should get it, which ones definitely should not get it? How often do I apply Epsom salts? I've read everything from monthly to twice a year. How much do I apply? What does the Epsom salts do? Is magnesium not sufficiently present in fertilizer? So why is the boost from salts particularly important? — Tania Self
Answer
You will not read much on this topic in regard to orchids for there has been little research done. As so often is the case, the myths and misinformation get spread widely, often by people selling something. However, this much is true: Magnesium is an essential element in orchid nutrition. In Europe, fertilizer formulas are often expressed as N-P-K-Mg, indicating that it is considered as a macroelement rather than a micronutrient. It can be made available to orchids in many forms. Potting mixes will often contain dolomitic lime for a slow-release source. Growers either top-dress with magnesium sulphate in the spring or they apply it dissolved in water in the autumn as a stand-alone application at 1tbs per gallon. Sophisticated growers will usually add magnesium in a chelated form to their liquid-fertilizer solutions. Plant need can be gauged by tissue analysis but this is probably more complex than most hobby growers can be bothered with.

Magnesium is critical to the flower-initiation process in orchids. Instances of disappointing flower production in Cymbidium, for example, have been linked to low levels of magnesium in plant tissue. The recent work with Phalaenopsis you have read supports previous studies on Cymbidium and it is reasonable to presume that magnesium is a macroelement for most orchid genera. — Andy Easton
Monthly Ribbon Judging
Reminder
You may have a new plant (less than 6 months) that has produced beautiful blooms that you would like to share with the other SGVOH members. You may bring it and display it on our NEW ARRIVALS table. It will not be judged, but you will receive a raffle ticket.
Any member who has grown their plants longer than 6 months may exhibit and participate in the ribbon judging contest.
Want to learn more about orchids? Why not participate in the judging? You may pair up with another member and become a judge for the evening. It is a great learning experience and an opportunity to get to know another member. Try it and share the fun.
Ribbon Chair
Linda Peterson
Members Plants
Our members work very hard watering, fertilizing, and making sure their plants are bug free so we can view them at each meeting. Please do not touch or rub the plant leaves or flowers. Be courteous, treat other peoples plants like you would like them to treat yours.
Membership Badges
Members may purchase a personally engraved SGVOH name badge for $15.00 each.
You may purchase them at any of our regular meetings.
Please contact:
Membership Chair, Dann Dunst
Members wearing their name tag at our regular meeting can obtain a special ticket for that evening's Plant Opportunity Table.
•Anthocyanin
•Boisduval Scale
•Divide or Repot?
•Keikis & Air Roots
•Leaftip Dieback
•Potting a Keiki
•Recognizing Mite Damage
•Recognizing Virus Symptoms, part 1
•Removing a Damaged Leaf
•Removing a Keiki
•Repotting a Cattleya
•Repotting a Healthy Orchid
•Repotting an Unhealthy Orchid
•Root Loss
•Selecting an Orchid
•Watering Orchids
•When to Repot?

•Where to Cut a Phalaenopsis Spike